Windows Embedded 8 Standard is the new flexible embedded operating system that can be customized to your needs! It is split in more than 250 modules that allow you to select only that parts of the operating system that are really needed. The installation is very easy and is done directly on the target device by using the Image Builder Wizard.
13 Reasons for Windows Embedded 8 Standard
Image Build Process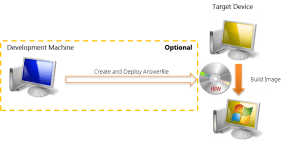 Windows Embedded 8 Standard offers an easy way to create your images. The image is being build directly on the target hardware using Image Build Wizard. This tool offers an easy to use graphical setup wizard, similar to the normal Windows 8 setup, which guides you through the whole image build process.
Alternatively you can use the Image Configuration Editor on a development machine to pre-configure your image and create an answer file. This answer file can be used together with the Image Builder Wizard on the target device to run the setup unattended.
Windows Embedded 8 Standard includes additional features such as the Unified Write Filter to protect your image, the new WinRT framework, Gesture Filter, Windows Store Application Launcher and it also allows enhanced branding so you can hide Windows from the end user. Also you can use the new Embedded Lockdown Manager to configure the Lockdown Features locally or even remotely – either by using the MMC Snap-In or PowerShell scripts.
Webinar

Licenses and Toolkit

Please Note: Product Keys for the this product are no longer shipped with the runtime license envelopes. The request your product key please follow the steps atProduct Key Information.
Toolkit Information
The toolkit for Windows Embedded 8 Standard is free of charge and can be downloaded from http://www.microsoft.com/windowsembedded/en-us/download-8-standard.aspx.
To download you are required to sign-in with your Windows Live-ID.
Please fill out all required fields to get access to the download and the product key for the Image Configuration Editor.
Please Note: The product key is only for the Image Configuration Editor and not for the target image creation. Product keys for the target image must be retrieved directly from Microsoft per email. To get more information about this process please go to our Product Key Information website.
Availability and Support
| | | |
| --- | --- | --- |
| Available | End of Mainstream Support | End of Extended Support |
| 2028 | 10.07.2018 | 11.07.2023 |