CLA 7.0 launching on 1. August 2018
Today, OEM customers are doing business with Microsoft under Customer License Agreement (CLA) version 6.0. To align with Global Partner Agreement terms, CLA 6.0 will be replaced with CLA version 7.0, commencing on August 1st 2018.
What does this mean for existing customers?
All OEMs with an Active CLA 6.0 will be required to accept CLA 7.0 terms by 30th June 2019

Microsoft will send an email communication to all OEMs at the beginning of August informing them that their Current CLA 6.0 will have a new end date of 30th June, 2019 and will be presented with the Terms & Conditions of the new CLA 7.0

OEMs should review the new Terms and Conditions and then Click to Accept when ready to renew. This needs to be done by 30th June 2019.

Microsoft will send regular reminder emails to those who have not renewed.
Will CLA 6.0 be available to download after 1st August, 2018?
CLA 6.0 will not be available to download after 31st July 2018. From 1st August, 2018, only CLA 7.0 will be available to OEMs. We recommend you download a copy of CLA 6.0 prior to 1st August 2018 for your records. To do this, please follow the steps below:
Review the last email from Microsoft pertaining to your CLA. This email would have come from the email "OEM CRM Production Application Account"
In that email you will see a "Click Here to review the Agreement" link in an Orange Box like the one below

Click on this link and your CLA will open. Scroll to the bottom of your CLA and you will see the Terms and Conditions that you ticked, along with Print Online and Print Hard Copy Buttons as shown below.
Select the "Print Online" option and then select Print to PDF and this will save a Soft Copy to your Device or Server location selected.
If you find that when you click on the Link in your last email, you get the below error, this is because the link has expired. To get a new link, contact your Microsoft Authorised Distributor or email oemcrmsupport@microsoft.com. A new link will be sent to the primary contact listed on your CLA.
Once you receive the new link you can then follow Steps 1 – 4 to get a soft copy of your CLA.
When will CLA version 7.0 be available to review?
The final version of CLA 7.0 will be available on DPC in mid-July
Screenshot from CLA 7.0 Email:

What to do on the CLA Website?
Check all your contact and company details
 Submit your contact and company details
 Click on "RENEW":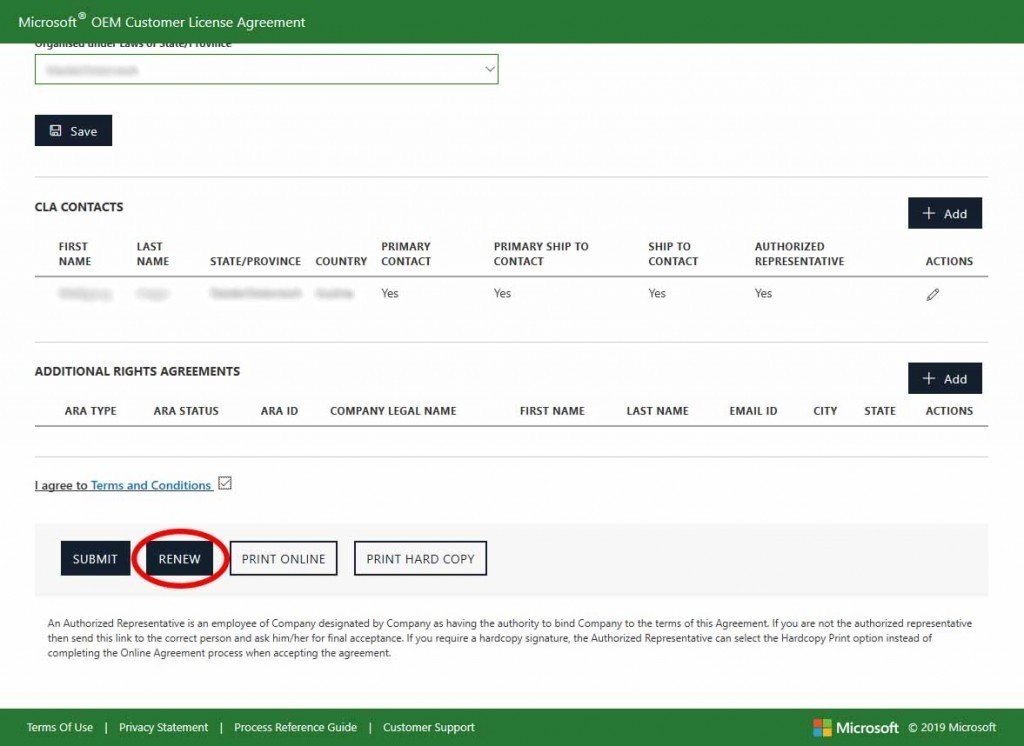 The OEM CLA is the agreement that an OEM Customers must sign in order to license MS Products through the distribution channel. This is the primary agreement between Microsoft and the OEM Customer.
A Microsoft Customer License Agreement is for free

A CLA is the agreement that an OEM Customer must sign in order to license MS Products through the distribution channel

An active CLA must be in place prior to distributing an Embedded System with an Image installed that includes an MS Product

The OEM CLA includes the general terms and conditions that govern the licensing of MS Products

CLA is an umbrella agreement – no commitment to product, volume or price is required
How to sign the new digital CLA
Please follow the following instructions to perform the CLA process correctly:
Please call or email us if you need a new CLA.
We create a new CLA in the Microsoft system and fill it with data which is available to us.
Then you get the email shown below sent directly from Microsoft.
Please click on "click here".
Please fill in now all your data and click on "Save".
Now it should look like this:

After this click "Submit for Review" and confirm the following query with "OK".
After this you will get the following message: "Thank You! You have successfully submitted your License Agreement.".
Now you should get an email from Microsoft within 2 days.
This email contains:
A link to review your CLA
A few more links and contacts for additional information
Please click on "click here".
Please check the prefilled data on the following page and correct or complete it if necessary.
When you are done click on "Save".
Now enter your personal data and please don't forget to agree the Terms and Condition.
Finally click on "Accept" and confirm the security check.
The process is now completed successfully.