Reasons for Windows Embedded Compact 7
Image Build Process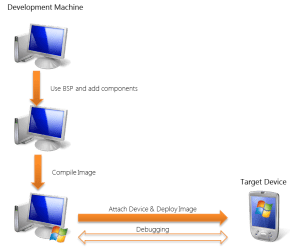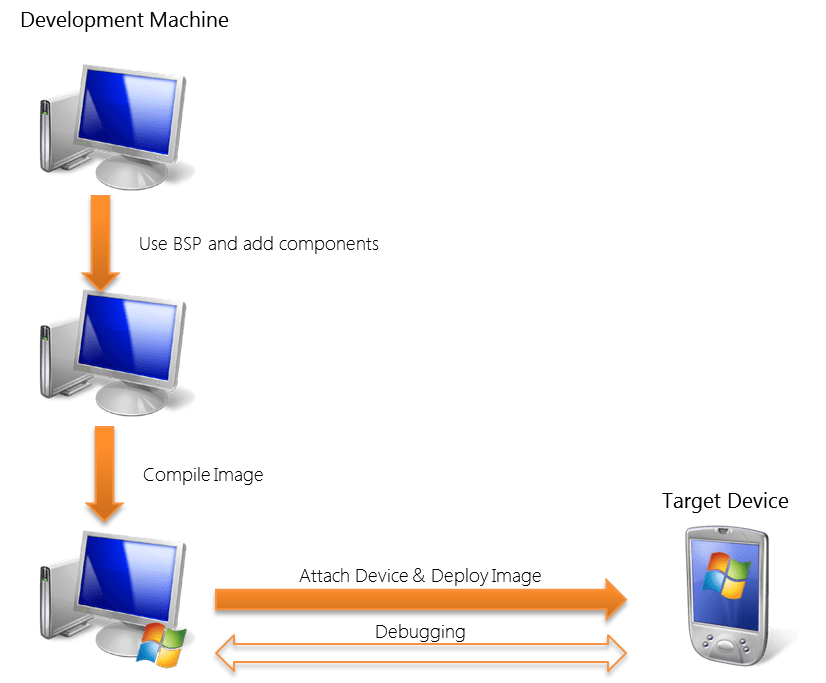 The Windows Embedded Compact 7 image is build on a development machine using Visual Studio 2008.
With Platform Builder you can build the operating system image and even change the source code of the OS.
To start a new image you should use an existing board support package (BSP) which already contains drivers for the target hardware.
Finally you compile the image and attach to the device to deploy the image, for example via USB or ethernet.
In case you have built an debug image you can connect Visual Studio to the device to debug the OS and your applications.
Licenses and Toolkit
Licensenumber
Description
Notes
TNA-00022
Windows Embedded Compact 7 – C7E
Please check with the License Assessment tool which version you need.
Each device needs one license
884-00364
Windows Embedded Compact 7 – C7P
Please check with the License Assessment tool which version you need.
Each device needs one license
9CQ-00048
Windows Embedded Compact 7 – C7G
Please check with the License Assessment tool which version you need.
Each device needs one license
9CQ-00050
Windows Embedded Compact 7 – C7K
Please check with the License Assessment tool which version you need.
Each device needs one license
ZH5-00040
Windows Embedded Compact 7 – C7NR
Please check with the License Assessment tool which version you need.
Each device needs one license
814-00345
Windows Embedded Compact 7 – Toolkit
Toolkit to create your Windows Embedded Compact 7 images – only needed once
Availability and Support
| | | |
| --- | --- | --- |
| Available | End of Mainstream Support | End of Extended Support |
| 28.02.2026 | 12.04.2016 | 13.04.2021 |