zDM – zereOS Device Manager
An easy device management, license and activation solution.
Licensing Windows can be quite complex. You have to find the correct license for your hardware, request and manage different product keys and activate devices in the production even if these device may never touch the internet.
Our zereOS Device Manager can automate this process for you and even offer additional feature on top!
zDM will detect the correct license based on the hardware and version of Windows that is installed on the device
Automatic digital licensing

zDM will assign the correct license digitally to the device. It is trackable via an unique identifier. This way you always know which device has which license(s) attached. Also it will automatically reassign the same license after reinstallation.

Automatic product key installation

zDM will automatically assign the correct product key for the device based on the Windows installation. The same key will be used again if the device is being reinstalled.

Automatic Windows activation

zDM will perform the Windows Activation automatically. The devices only need to reach the zDM server. It will also save the activation so in case the device gets reinstalled it will reactivate the device without asking the Activation servers (only if the hardware hasn't changed)

License Tracking

Know exactly which device got which license and which product key assigned. How often it has been activated and when the activation and licensing happened.

Easy Audit

Get a complete list of assigned licenses with the device IDs for an Audit process in Excel Format.

Notifications when needed

Have zDM send you notifications if you need to order new licenses in time. It can also send notifications if the number of activations of a product key reaches a threshold – just in time to request a new one from Microsoft.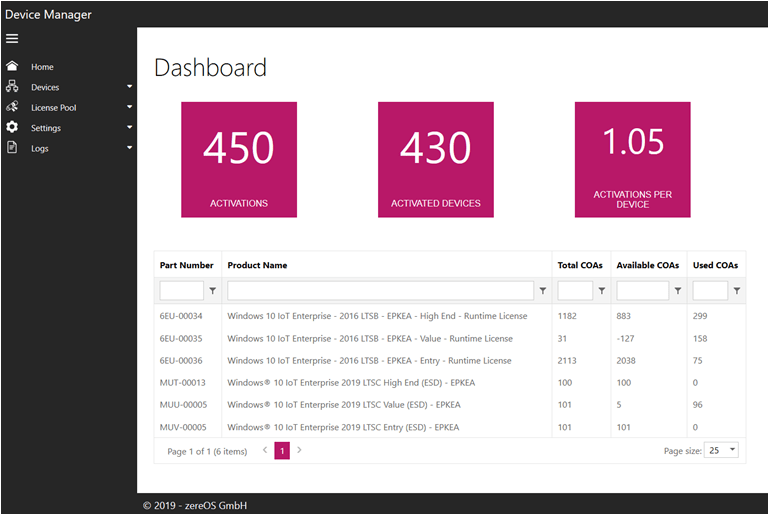 Extended Security Updates for Windows 7 / Server 2008
When you are requesting ESU for you devices, the process can be pretty complex.
You need to install a specific product key every year on these devices to allow for the devices to fetch new updates.
With zDM you can automate this process. Once the agent is deployed on the devices you can deploy the ESU key with a few clicks in the management portal. No need to visit your devices every year. Also you have full tracking over your devices to see which ones are using ESU.