Image Build Process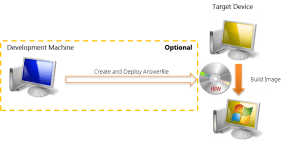 Windows Embedded Standard 7 offers a new and easy way of creating images. The image is being build directly on the target hardware using Image Build Wizard. This tool offers an easy to use graphical setup wizard, similar to the normal Windows 7 setup, which guides you through the whole image build process.
Alternatively you can use the Image Configuration Editor on a development machine to pre-configure your image and create an answer file. This answer file can be used together with the Image Builder Wizard on the target device to run the setup unattended.
E, P and C version
Windows Embedded Standard is available in different versions. 
The license you need depends on which features you are going to use in your image.
This is a summary of features which are available in the different versions.
Note: Windows Embedded Standard 7 Service Pack 1 will introduce new SKU Compliance Feature Packages.
These packages ease the selection of a specific version. For example, when a WES7E SKU Compliance Package has been added only the features which are included in this package will work. All other features such as Windows Media Center will be deactivated.
For a complete list please click here.
Applications and Services Development
 
WES7E
WES7P
.Net Framework
.Net Framework 3.5 SP1
.NET Framework 2.0 Client Profile
.NET Framework 3.0
.NET Framework 3.0 Client Profile
.NET Framework 3.5
.NET Framework 3.5 Client Profile
Browser
Internet Explorer 8.0
Internet Explorer 8 Browser
Internet Explorer 8 Engine and Display
Internet Explorer 8 Foundation
Internet Information Services – IIS
IIS 7.0
Windows Process Activation Service
Consumer
WES7E
WES7P
Consumer applications
AntiMalware
Windows Defender
Add-ons
Mobility Center
Windows Sideshow
Snipping tool
Sticky Notes
Windows Journal
Parental Control
Home Group
Home media streaming, including Play To
Photo Viewer
Windows Media Center
Core OS
WES7E
WES7P
Devices and Printers
Device Framework
Device User Experience
Driver Frameworks
Fax and Scan
Printing Utilities and Management
Location Aware printing
Sensor and Location Platform
Advanced Enterprise features
WES7E
WES7P
Enterprise Features
Enterprise Search Scopes
BranchCache
DirectAccess
Windows XP Mode
Device Management
WES7E
WES7P
Management
Group Policy Management
Microsoft Management Console (MMC)
System Management Administrative Tools
System Management Utilities
Windows Management Instrumentation (WMI)
Windows Update
Windows Update Standalone Installer
Windows Update User Interface
Backup and Restore
Direct Boot from VHD
Join a Domain
Offline Folders
Power Management
Windows PowerShell 2.0
Security
WES7E
WES7P
Security
Credential Roaming Service
Credentials and Certificate Management
Windows Authorization Manager (AZMAN)
Windows Security Center
Active Directory Rights Management
Security Base
Trusted Platform Module (TPM) Management
Bitlocker Secure Startup
Encrypted File System (EFS)
Applocker
Bitlocker
Bitlocker-to-go
Shell and User Interface
WES7E
WES7P
User Interface
Tablet PC Support
Windows Touch
Embedded Features
WES7E
WES7P
Embedded Features
Boot from USB Stick
Dialog Box Filter
Write Filter technology
Enhanced Write Filter
File Based Write Filter (FBWF)
Hibernate Once Resume Many (HORM-EEF)
Customization
Hide Boot Screens
Custom Logon Desktop Background Images
Custom Shell Support (EEF)
Message Box Default Reply
Notification & Popup suppression (EEF)
OEM Branding Experience (EEF)
RAM Disk Controller
Registry Filter
WSDAPI for .NET
Licenses and Toolkit
Licensenumber
Description
Notes
7WT-00049
Windows Embedded Standard 7 E Runtime License
E version – Each device needs one license
7WT-00050
Windows Embedded Standard 7 P Runtime License
P version – Each device needs one license
2QG-00003
Windows Embedded Standard 7 C Runtime License
C version – Each device needs one license for Connected Media Devices (Set-Top-Boxes, …)
5CA-00039
Windows Embedded Standard 7 Toolkit – with SP1
Toolkit to create your Windows Embedded Standard 7 SP1 images – only needed once
Per toolkit you have 2 free support cases included!
Please Note: Product Keys for the this product are no longer shipped with the runtime license envelopes. To request your product key please follow the steps atProduct Key Information.
Availability and Support

| | | |
| --- | --- | --- |
| Available | End of Mainstream Support | End of Extended Support |
| 27.07.2025 | 13.10.2015 | 13.10.2020 |