Windows Embedded Standard Builder is a powerful tool that helps you create a Windows Embedded Standard image from scratch in a wizard-like fashion.
Create your Windows Embedded Standard image within minutes with all important features of Windows Embedded Standard.
Feature
Target Designer
XPeBuilder
POSReady2009
Installation/Creation Tool
Target Designer
Component Designer
Windows PE
TAP
DVD
DVD
Wizard-like Setup
Average Installation Time
> 1h
< 30 min
~ 30 min
Flexibility
> 13.000 components
including drivers
Base image +> 50 feature packs
+ all XP drivers
Base image +
> 20 feature packages
Learn Time
one week
almost none
almost none
Embedded Features
(EWF, FBWF, USB Boot,…)
Some
(FBWF, Registry Filter
+ USB Boot)
Minimum Footprint
9 MB
150 MB
500MB
Preinstalled Drivers Possible
Target Disk Preparation
Manual
Automatic
Automatic
 XP Pro like image possible
Image Build Process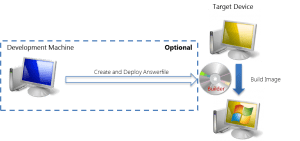 If you use Windows Embedded Standard Builder, all you need is your target device with a DVD and a free USB port. 
There is no need for a second development pc and no need to transfer the final image between machines.
Boot your target device with the Windows Embedded Standard Builder DVD.
A graphical setup wizard will guide you through the whole image build process.
Building an Windows Embedded Standard image has never been so easy!
Demo of XP Embedded Builder similar to WES Builder:
Licenses and Toolkit
Licensenumber
Description
Notes
7WT-00011
Windows Embedded Standard 2009 Runtime License
Each device needs one license
5CA-00005
Windows Embedded Standard 2009 Target Designer
Due to licensing restrictions a Toolkit for Windows Embedded Standard is also needed.
Per toolkit you have 2 free support cases included!
GRE WES-Builder 1.0
Windows Embedded Standard Builder
Needed only once
Availability and Support of Windows Embedded Standard
| | | |
| --- | --- | --- |
| Available | End of Mainstream Support | End of Extended Support |
| 08.01.2024 | 14.01.2014 | 08.01.2019 |