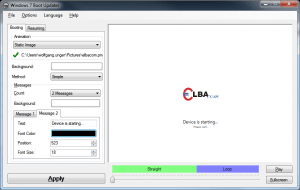 Elbacom is working together with Coder for Life to provide you the Windows 7 Boot Updater tool that allows you to fully customize your Windows Embedded Standard 7 Bootlogo! With the tool you can easily update your devices bootlogo so that the end user does not recognize that it is Windows that is running on the device.
The Windows 7 Boot Updater enables you to do the following customizations:
Change the bootanimation
Use a static image as bootlogo either as a fullscreen image or instead of the animation
Change the texts and their positions
Change the colors
The tool updates the bootscreen and also the resume animation when the device is resuming from hibernation.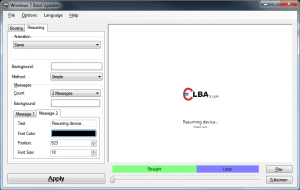 Several checks assure that the update process of the customization was successful.
The tool works with the Standard Boot Environment and also with the Enhanced Write Filter Boot Environment of Windows Embedded Standard 7.
For more information and pricing please go to the Coder for Life website:
www.coderforlife.com/projects/win7boot/elbacom
Please note that the tool is modifying system files. So after a Windows Update there is a possibility that the bootlogo reverts to the original version.
The customization of the files is allowed in the ALTs of you Windows Embedded Standard product. However Microsoft will not support this change.
Elbacom and Coder for Life are not responsible for any damages – there is no warranty and no liability for any damages!